Horizontal Directional Drilling
Horizontal Directional Drilling is used in place of trenching or excavating. It is suitable for a variety of soil conditions and is ideal for crossing roadways, waterways, environmentally sensitive areas, urban areas AND to avoid extensive open cut trenches.
Install pipelines and underground utilities without disturbing the local environment and existing infrastructure.
Low impact on surroundings, safer for the environment
HDD Consulting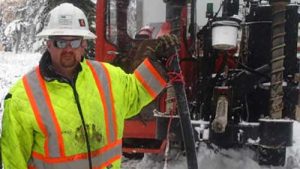 EnvioBore's core services continue to grow. Today, we offer exceptional HDD Consulting Services in response to our clients' needs by consistently delivering service excellence while striving to exceed our clients' expectations. Decision making excellence is achieved through clear understanding, communication and thorough documentation of even the smallest project details. We excel at providing expert knowledge for your HDD project solutions!
Pipe Ramming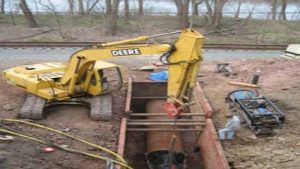 WHAT IS PIPE RAMMING?
A pneumatic hammer installs an open ended steel casing that is cleaned out during and after completion of pipe installation.
ADVANTAGES:
Trenchless
Able to swallow rock as large as the inside diameter of the casing
Method does not remove soil until casing is installed
Minimizes voids in Roads & Railroads
Reduced soil compaction
PREFERRED FOR ADVERSE SOIL CONDITIONS:
Free flowing sand
Cobble conditions
Large rock formations
Excessive ground water
Pipe Bursting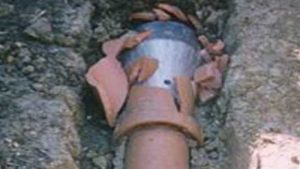 WHAT IS PIPE BURSTING?
The breaking of an existing pipe, expanding the broken pipe shards into the surrounding soil while simultaneously pulling in the new carrier line, usually polyethylene pipe (HDPE).
THE BENEFITS OF PIPE BURSTING
Installs a new seamless pipe
Eliminates up to 85% of excavation
Follows the path of the existing utility
Ability to increase pipe size
Less disturbance to traffic patterns
Often more cost effective than open trench replacement
Proven technology with 60,000,000 feet installed worldwide
Utility Services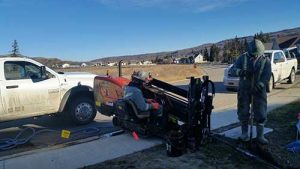 Horizontal directional drilling is becoming the first choice for utility construction. Underground construction services include natural gas distribution, transmission stations, facilities, underground electrical and telecommunications. Fiber optics, sewer pipes, and casings for multiple utilities. At EnviroBore we provide locating tooling services to ensure safe crossings of foreign utilities. Horizontal Directional Drilling is the fastest and most cost-effective way to install pipelines and utilities. It is environmentally sensitive to fragile eco-systems. Choose the most non-destructive way to install your underground services. Choose EnviroBore today!
Horizontal Remediation Wells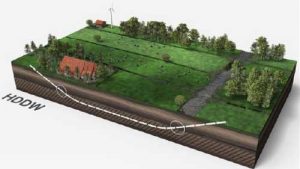 EnviroBore offers a cost effective, efficient way to solve your contaminated soil problems through a more efficient proven system provided by horizontal directional drilling. When horizontal directional drilling is used to clean up underground contaminants, the impact has minimal disturbance to the environment and surrounding area.
Horizontal directional drill technology can be used in the application of various remediation techniques. Methods such as air sparging, soil vapor extraction and in situ bioremediation will help to identify and remove contaminants that remain undiluted in the subsurface, such as spilled oil or gasoline. This technology that we offer is very useful when the contaminant plume covers a large area and has linear geometry, or when surface obstructions are present.
Horizontal wells treat a much larger area, drawing contaminates from a much greater area, or an area not originally accessible. This cuts costs and equipment, producing more volume for less well.
Advantages to using horizontally installed wells and monitoring equipment:
A significant increase in linear footage of screen and area affected by the well
The number of horizontal wells installed will be significantly less than vertical methods since a much greater area can be accessed by using a single horizontal well method verses a vertical well method approach
The ability to enter areas under buildings and other infrastructure and environmentally sensitive areas where these processes were difficult in the past
Performing drilling and installation without interrupting the day to day processes of the client
Safer installation to client's employees


HORIZONTAL REMEDIATION WELLS
LCM-Control & Containment Units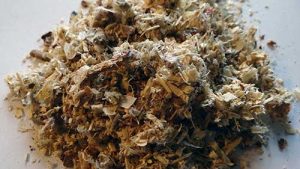 LCM Control is a collective term for substances added to drilling fluids when drilling fluids are being lost to the formations downhole. Some common LCM products added to drilling mud are sawdust, cellophane, Rockwool insulation fibers, and nut shells. Some LCM products such as Prima-Seal (product of Di-Corp) contain a blend of lost circulation products in a granule and fiber type substance state, which act as sealing agents and are usually available in two types of grades, Coarse or Medium. The collection of these types of products help to start bridging around a void, and essentially plug the void off allowing the flow of drilling mud to return to the drilling rig.
EnviroBore Ltd. is equipped with mobile environmental containment units. These closed in trailers are fully stocked and equipped with all the necessary tools and equipment to contain and clean up fluid releases from drilling procedures, or any spills that might occur above ground.
Directional Soil Sampling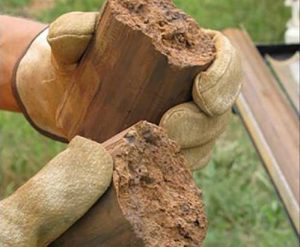 Directional Drilling & Soil Sampling
While the process is time consuming and can be difficult, directional drilling soil sampling allows samples to be collected from locations where it is impossible to reach. The idea is simple, advance a borehole to the proposed soil sampling location using directional drilling. Remove the drill bit from the bore, attach the soil sampling device and advance it into the borehole with the drill rig. The sampler is driven all the way to the proposed sampling location in a closed position, preventing any soil or debris from entering the sampler. Once at the targeted location, the sampler is mechanically opened and locked into position; this locking allows it to be driven or rotated into the undisturbed soils at the sample location. Once the sample is taken, the drill rods and sampler are retrieved from the borehole, sampler removed, and drill bit placed back on to the drill rods. The drill bit is driven back into the borehole, and drilling progresses to the next sample location.
Soil Sampling Under Infrastructures
Site investigation at active facilities can be difficult to impossible using traditional soil sampling techniques. Potential contamination source areas are often under infrastructure, for example, above or below ground storage tanks, and often highly inaccessible.
KEEPING WESTERN CANADA
GREEN