JT 25 EQUIPMENT LIST
JT 25 Ditch Witch Drill,
Capable of 27,000 lbs of Pullback
Tridem Tractor
Fully heated & insulated Van Body with FM13 mud mixing System
Walkover Subsite TKQ Locating System
38ft Drill Trailer with 225m drill Rods
Additional Water Truck (if required)
4 ¼" Tri-Hawk 5 Drill Bit
JT 100 EQUIPMENT LIST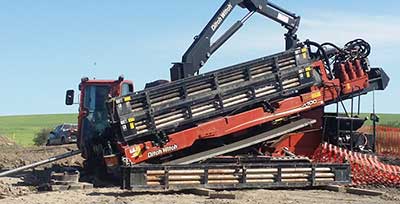 Ditch Witch Drill capable of 100,000 lbs pullback
Tractor and 53ft step deck
F5 Falcon Locating System
Tandem Water Truck (16 cube)
Fully Heated & Insulated
Mud mixing trailer (53ft)
Rod Trailer (with 715 m drill string)
Environmental containment Unit (if required)
53 ft. Drilling Mud recycling Unit (if required)
6 ¾" Tri-Hawk 5 Drill Bit
330 VERMEER EQUIPMENT LIST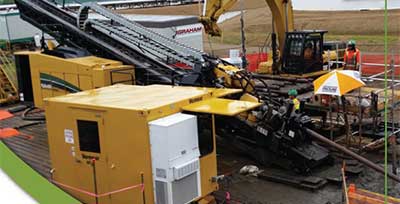 330 Vermeer Drill capable of 330,000 lbs of pullback
Vermeer Reclaimer Unit (53 ft.)
Shale Bin
Centrifuge System
Clean mud Tank/Pill Tank
400 Barrel Water Storage Tank
Boiler (winter months only, unless requested by client)
Environmental Containment Unit
Pump and Control Room (53 ft.)
2 Rod Trailers 53ft (1500+m of 5 ½" with 4 ½" IF Tool Joint Drill Rods)
Fuel Generator Station equipped with fuel cell, light tower & generator
Welder Unit (if required)
2 Crew Trucks equip with 450L slip tank
Supervisor Crew Truck
210 excavator & Deck Hand Trailer for drilling Mud (53ft.)
9 7/8" Tri-Hawk 5 Drill Bit Trailer for Miscellaneous reamers & bits (53ft.)
ENVIRONMENTAL TRAILERS
9000 Watt Generator (available if required)
4000 Watt Generator (available if required)
Honda Trash Pump (2 & 3 inch)
Multiple Sized Water Lines
Extension Cords
Multiple Sized Tarps
Gasoline Jerry Cans
Absorbent Pads
Filter Cloth
Muster Point Signs
Multiple sized Spill Kits
T Posts
Post Pounder
Snow Fence
Aqua Dam
Barricades & Stands
Empty Buckets
Large Propane Cylinders
Pylons
Flashing Yellow Lights
All Purpose Absorber
Diamond Seal
Jumper Cables
Yellow Rope
Absorbent Socks (4 & 5 inch)
Rake
Multiple Shovels
Crowbar
MetaFLO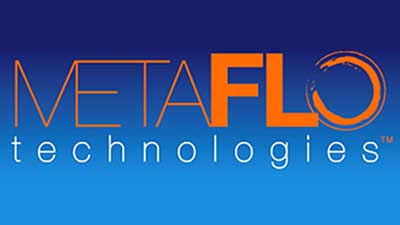 MetaFLO Technologies Inc. provides solutions for the treatment of liquid waste streams in the industrial, oil and
gas, mining and utility sectors. We provide leading edge technology that reduces handling and transportation
while providing a more environmentally sound outcome.
With MetaFLO's technology, you will be able to:
Reduce costs of managing liquid waste;
Reduce Greenhouse Gas emissions (GHG);
Eliminate liquid transfer liability;
Address waste diversion requirements;
Reduce risk and liability; thus, improving safety on site; and,
Significantly reduce your environmental impact
Traditionally for oil and gas applications, solidification has been conducted with sawdust or fly ash. Aside from solidification, the AER has provided other prescribed methods for managing these liquid waste streams including landspraying, landspreading and mix-bury-cover.
24" & 16" AIR HAMMERS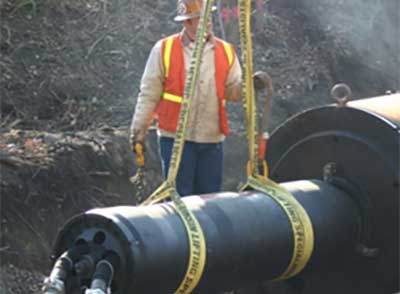 What is Pipe Ramming?
A pneumatic hammer installs an open ended steel casing that is cleaned out during and after completion of pipe installation.
Advantages:
Trenchless
Able to swallow rock as large as the inside diameter of the casing
Method does not remove soil until casing is installed
Minimizes voids in Roads & Railroads
Reduces soil compaction
Preferred For Adverse Soil Conditions:
Free flowing sand
Cobble conditions
Large rock formations
Excessive ground water
KEEPING WESTERN CANADA
GREEN